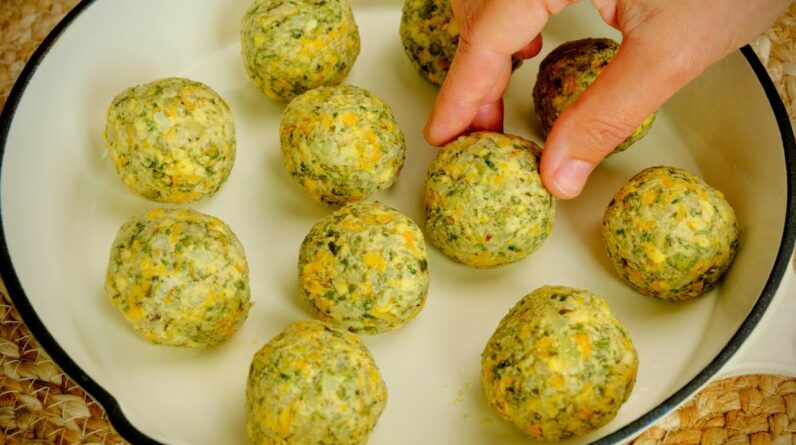 Get ready to tantalize your taste buds with the most scrumptious lentils recipe ever! This easy and delicious vegan dish is perfect for the whole family, and it's packed with protein, making it a fantastic meat-free alternative. In this video by We Cook Vegan, you'll learn how to prepare these mouthwatering lentil meatballs that are eggless, dairy-free, and bursting with flavor. Many people are unaware of this high-protein lentil recipe, so it's time to discover the new and exciting way to cook lentils. With simple ingredients such as lentils, onion, carrot, garlic, cooked rice, and a few seasonings, you can whip up a batch of these delectable lentil meatballs in no time. So, gather your ingredients, put on your chef's hat, and get ready to enjoy a delightful and healthy vegan meal!
Welcome to the world of easy and delicious lentil recipes! Today, I'm excited to share a mouthwatering lentils dish that I absolutely adore. Let's start by soaking green lentils for three hours and then mashing them up with a hand blender. Meanwhile, chop an onion and cook it in a lightly oiled frying pan along with grated carrot and chopped garlic. Once cooked, mix the carrot and garlic mixture with the mashed lentils and cooked rice, adding ground coriander, Italian herbs, and salt to taste. Shape the mixture into small balls and fry them to perfection. To complete this flavorful vegan dish, prepare a tangy sauce using tomato puree, sugar, flour, salt, black pepper, and water. Pour the sauce over the lentil meatballs and let them simmer under a lid for about 20 minutes. Serve your lentil meatballs with fresh dill and enjoy the deliciousness!
Lentil Meatballs Recipe: A Protein-Rich, Easy, and Delicious Vegan Dish!
If you're looking for a protein-rich and flavorful vegan recipe, look no further! These lentil meatballs are a revelation and will surely satisfy your cravings. Packed with nutrients and bursting with flavors, these lentil meatballs are perfect for everyone, whether you follow a vegan or vegetarian lifestyle or simply want to explore new and delicious plant-based options.
Ingredients:
190g | 1 cup green lentils
1 onion
1 carrot
1 garlic clove
170g | 1 cup cooked rice
1 tsp ground coriander
1 tsp Italian herbs
Salt to taste
Sauce ingredients:
1 tbsp tomato puree
1 tsp sugar
1 tsp flour
Salt and black pepper to taste
250ml | 1 cup water
This image is property of i.ytimg.com.
Cooking tips:
Feel free to add your favorite herbs and spices to the recipe to customize the flavors and make it your own. Don't be afraid to experiment and find your favorite combination of seasonings!
Now, let's get cooking and learn how to make these delectable lentil meatballs!
Method:
Start by soaking the 190g | 1 cup of green lentils in water for 3 hours. This soaking process ensures that the lentils become tender and cook evenly.

Once the lentils are soaked, drain them and transfer them to a bowl. Using a hand blender, mash the lentils until they form a smooth consistency. This step helps to bind the meatballs together.

Next, finely chop 1 onion and transfer it to a lightly oiled frying pan. Cook the onion until it becomes translucent and fragrant.

Peel and grate 1 carrot and add it to the frying pan with the onion. Allow the carrot to cook for about 5 minutes, softening its texture and infusing it with the flavors of the onion.

Chop 1 garlic clove and combine it with the onion and carrot mixture in the frying pan. The garlic adds a wonderful aroma and depth of flavor to the meatballs.

In the mashed lentil mixture, add the 170g | 1 cup of cooked rice. This addition adds texture and balances out the flavors of the lentils and vegetables.

Now, add the cooked carrot and garlic mixture to the lentil and rice mixture. Season with 1 tsp ground coriander, 1 tsp Italian herbs, and salt to taste. Mix all the ingredients together until well combined.

Transfer the mixture to the fridge and let it chill for 10 minutes. This step helps the mixture to firm up, making it easier to shape into small balls.

Once the mixture has firmed up, shape it into small balls, forming the lentil meatballs. The size is up to you, but smaller balls tend to cook more evenly and quickly.

Heat a little olive oil in a non-stick skillet. Add the lentil meatballs to the skillet and fry them for about 5 minutes on each side, or until they turn golden and develop a crispy exterior. The frying process adds a delightful crunch to the meatballs and enhances their overall texture.

While the lentil meatballs are cooking, mix together 1 tbsp tomato puree, 1 tsp sugar (optional), 1 tsp flour, a pinch of salt, and black pepper to taste in a mixing jar or bowl. Gradually add 250ml | 1 cup of water, combining all the ingredients until well blended.

Pour the sauce over the lentil meatballs in the skillet and cook them under a lid for about 20 minutes. This allows the flavors to meld together and the meatballs to absorb the delicious sauce.

Once cooked, serve the lentil meatballs warm and enjoy! The combination of flavors, textures, and protein-rich lentils makes these meatballs a satisfying and wholesome dish.
Whether you're a seasoned vegan or simply looking to incorporate more plant-based meals into your diet, these lentil meatballs are a must-try recipe. They are versatile, delicious, and can be enjoyed by the whole family. Plus, with the added benefit of being eggless and dairy-free, you can indulge guilt-free!
So, gather your ingredients, follow the step-by-step instructions, and embark on a culinary adventure with these incredible lentil meatballs. Don't forget to add your own favorite herbs and spices to personalize the flavors and make this recipe truly your own. Happy cooking!
Conclusion:
In conclusion, these lentil meatballs are a game-changer in the world of vegan recipes. Packed with protein, easy to make, and bursting with flavors, they are perfect for a satisfying and nutritious meal. Whether you're a vegan, vegetarian, or simply want to try something new, these lentil meatballs will surely impress you and your whole family.
Feel free to experiment with different herbs and spices to create your favorite flavor combination. The versatility of this recipe allows for endless creativity in the kitchen. Play around with seasonings and find your perfect match!
Don't forget to subscribe to our vegan recipes channel for more easy budget-friendly recipes. We love sharing simple and delicious plant-based dishes that anyone can afford and enjoy.
Thank you for joining us on this lentil-filled adventure. We hope you enjoy this recipe and find it as incredible as we do! Happy cooking!